Yellow Dragon Cave in Zhangjiajie, China
Yellow Dragon Cave (Huanglong Cave) is a karst cave located near the Wulingyuan district of Zhangjiajie City, Hunan, China and a national 4A rated scenic area. As of 2010, the cave has over a million visitors per year. Yellow Dragon Cave's name comes from a legend of a dragon that lived inside the cave, but it also seems to make reference to its monstrous size: the cave in Hunan province, southern China, reportedly covers over 100,000 square meters. Visitors often spend over two hours taking in its cavernous caverns, marveling at stalagmites and stalactites that are millions of years in the making. A word of advice: visit the bathroom before entering.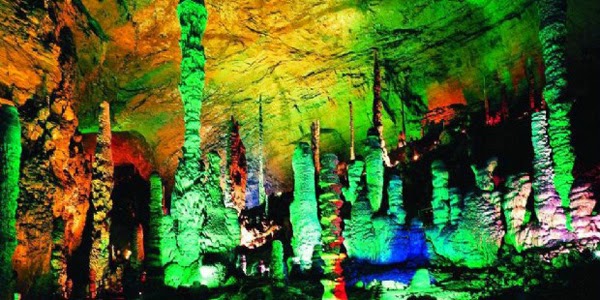 Tours take in groups of 60 people, forsaking the sun's rays to enter a world backlit by colored LEDs. But the tour groups often disintegrate as they progress along the lengths of the cave. A tunnel leads people deeper and deeper into the depths of the cave, and tour guides with microphones note various stalagmites which occasionally resemble the objects they are named after.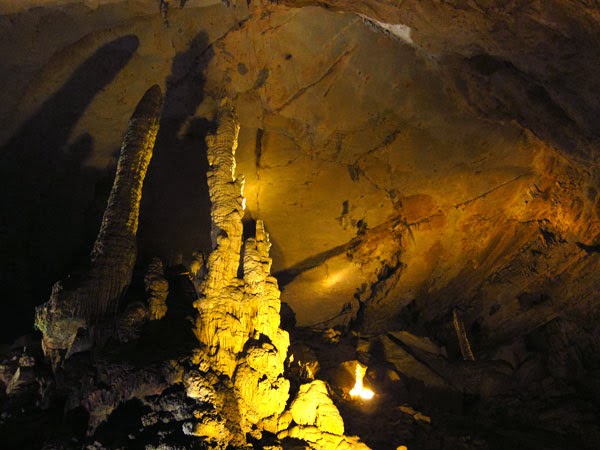 The plip plop sound of dripping water is omnipresent, each drop slowly shaping the rock formations. Visitors hold their fingers and tongues up to stalagmites to catch the constant trickle of water.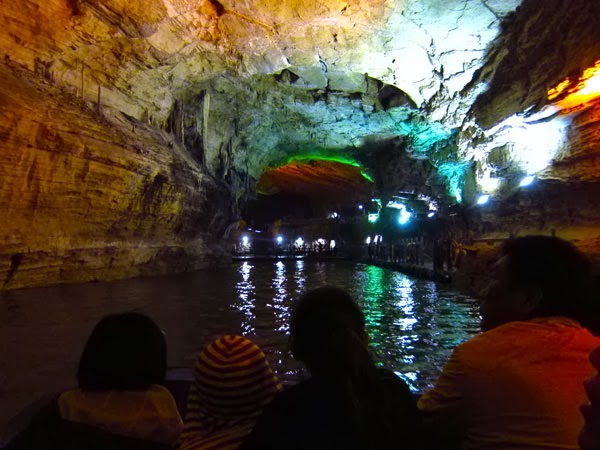 But the water at Yellow Dragon Cave can be more than a trickle. At one point, a 40 meter waterfall strangely drops out of the centre of a hall ceiling, its origin almost impossible to discern. Rivers flow through different depths of the cave, and at one point, all visitors hop into boats to cautiously cruise 800 meters of the maze-like cave. Views are impressive as many of the caverns are incredibly large, at times tall enough to house a thirty-storey building. Even claustrophobics can enjoy this cave.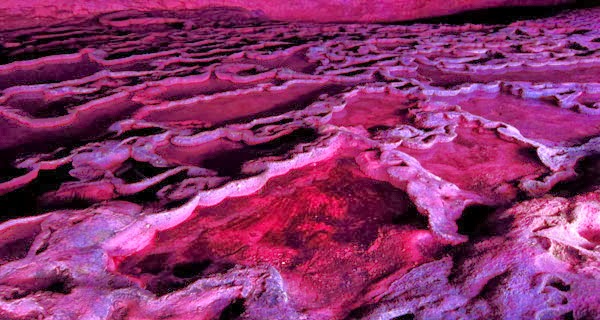 The stalagmites at Yellow Dragon are also impressively tall. The ten thousand year old Sea-Suppressing Needle is a highlight of the cave; it is a 19.2 meter tall toothpick of a stalagmite which has been insured for 100 million yuan. The cave's largest stalagmite is 12 meters tall and 50 meters in circumference. Its name is King's Throne, though every child would find Scary Monster's Head to be a more appropriate moniker.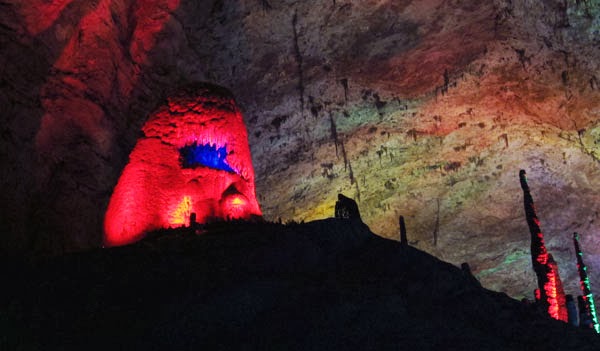 These two particular stalagmites are held in the Dragon's Palace hall, a veritable forest of stalactites and stalagmites. It is the oldest and largest hall of the cave, densely packed with curious rock formations. An echo platform near the exit of the hall ensures that the sound of people's yelling and clapping keep the hall filled with reverberating sounds of joy, to the chagrin of some.


For those who prefer a more intimate experience, the Labyrinth is an additional section of cave available for viewing. It is a cave which is sandwiched between a river above and a river below. Accordingly, this moisture-filled cave is thickly populated with columns (stalactites and stalagmites that have made contact and grown into one stone). Visitors must suck in their bellies to squeeze through some tight spots.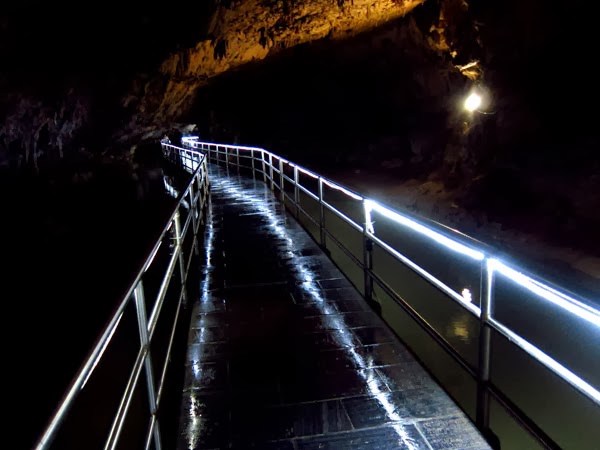 The majestic spaciousness of the halls above is nonexistent in the Labyrinth, and visitors quickly become wary of knocking their heads against the bulbous hanging stalactites. Tour guides in the Labyrinth point out how some rock formations are hollow or porous to light, providing more in-depth geological information about the cave and its workings.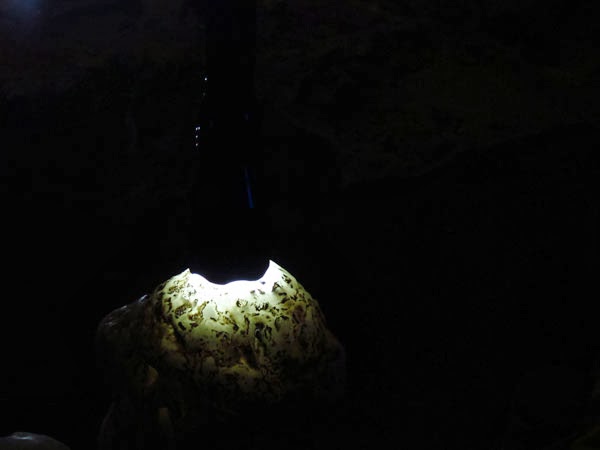 Yellow Dragon Cave is certainly one of the world's best caves. Even those who know nothing about caves can recognize that this one can't possibly have many equals. It was one of China's first tourist destinations which was given the national AAAA ranking. Accordingly, it is well set up to handle large numbers of people should they arrive.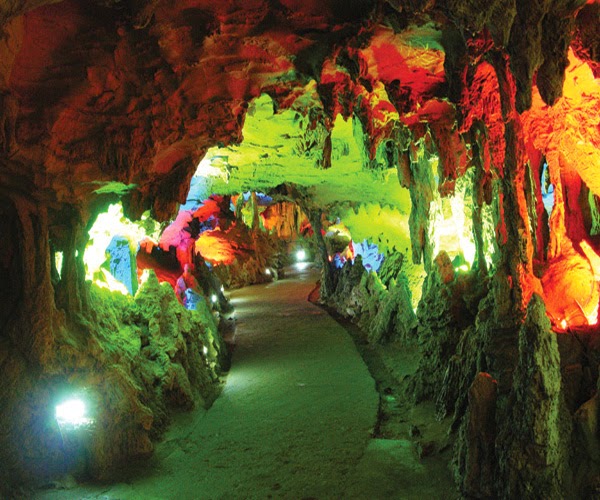 Getting to Hunan Province's Yellow Dragon Cave (Huang Long Dong (黄龙洞)):
From Zhangjiajie bus station (next to the train station), take the long distance bus to Wulingyuan bus station. Then take bus #1 to Huang Long Dong (40 minutes).
Entrance fee: 80 yuan ($13.22624)
Labyrinth (Migong):15 yuan ($2.47992)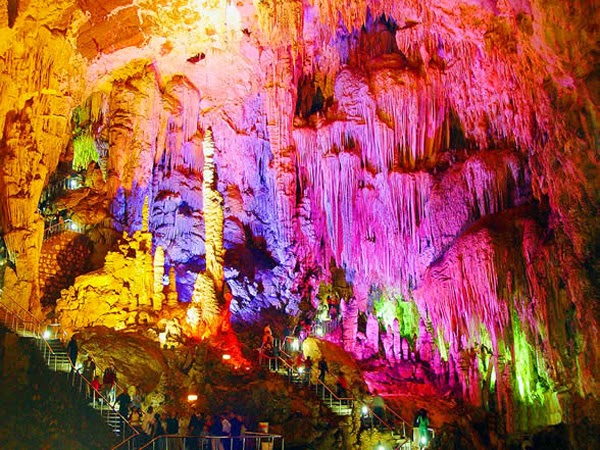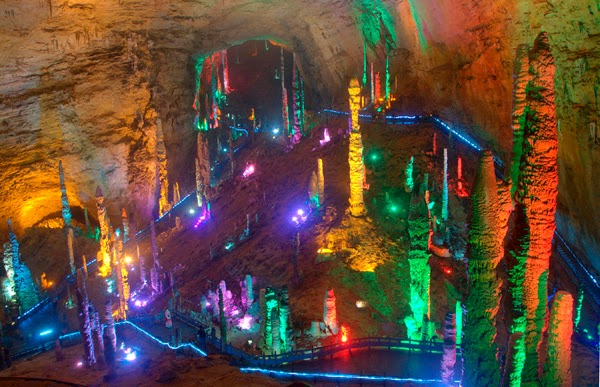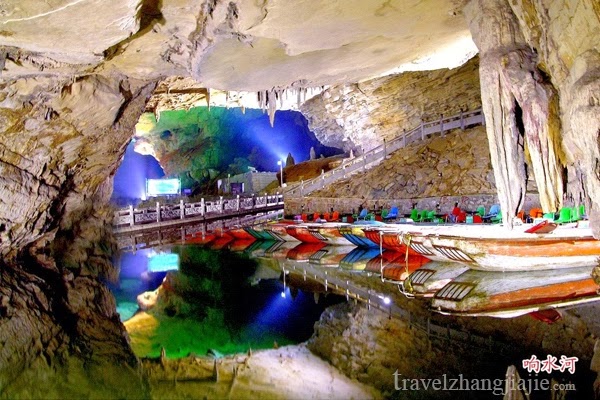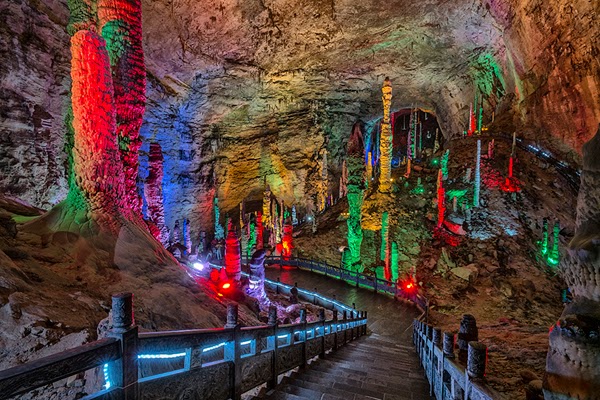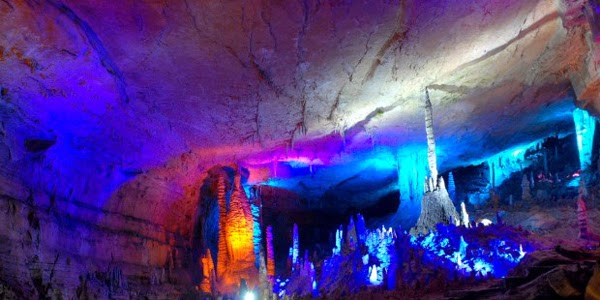 1