Bali – the Island of a Thousand Temples
The Indonesian island of Bali is nestled along the expansive archipelago of islands that make up the huge country of Indonesia. While Bali is part of Indonesia, it is a unique island that differs much from its neighbouring islands. The culture, religion, and popularity of the island has made it stand out from other destinations in Indonesia, and people visit the island all year round for a variety of different reasons.
The unique Balinese religion has produced an interesting phenomenon across the island in the form of beautiful temples where families can hold ceremonies and give offerings to their gods. Even if you don't visit one, it's inevitable that you will see one if you decide to visit the island of a thousand temples.
Kuta and Seminyak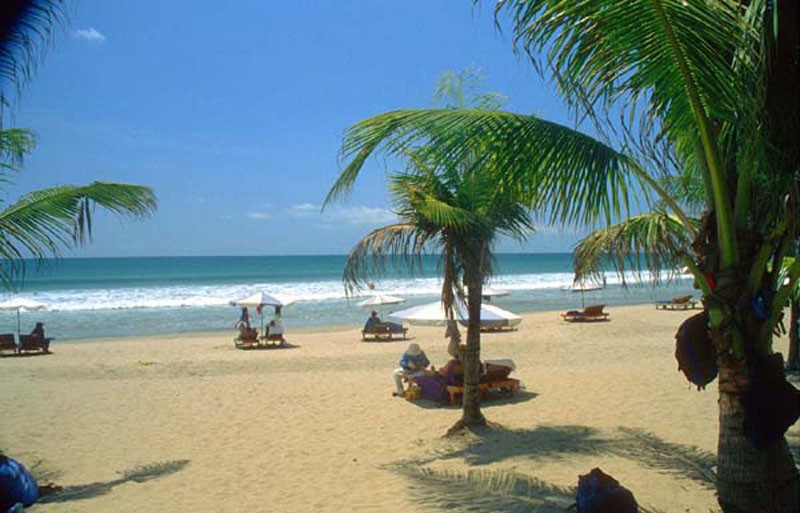 The hub of tourism and hedonism in Bali, the district of Kuta and Seminyak is jam packed full of hotels, restaurants, bars, shops, and other attractions to keep visitors entertained throughout their stay. Some people describe the area as crass, over developed, and not true to real Balinese spirit. However you want to look at it, the area must be doing something right because visitors keep flocking back there every year.
The main development in Kuta and Seminyak runs alongside the beach front of Kuta Beach, which stretches for miles up to the village of Canggu. Surfing, sunbathing, and partying are king here, so if you are looking for relaxation this is not the place. Try the Bukit peninsula, Ubud, or Amed if that is more your thing.
Ubud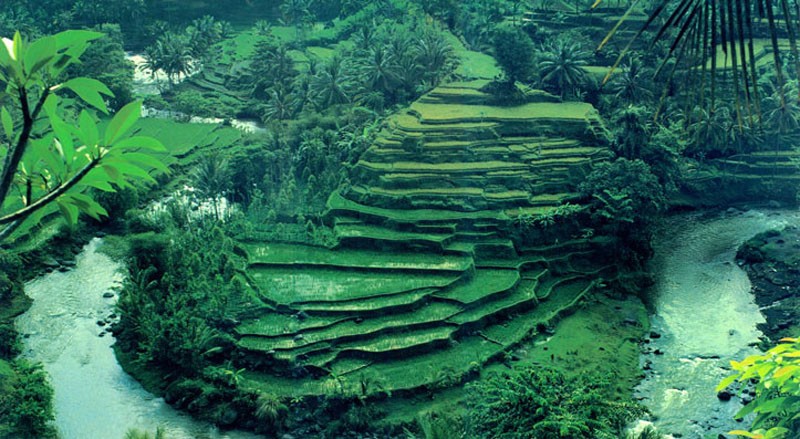 Ubud has been described by some as the spiritual centre of Bali, and it is here that you will be able to experience the true nature of Balinese culture. Traditional music, arts, and crafts can be seen and heard here, plus it's a great place for relaxation and meditation. Yoga is very popular here, as are health spas and retreats. Ubud is the place to pamper yourself while staying in Bali, and offers a real contrast to the hectic nature of Kuta and Seminyak.
The Bukit peninsula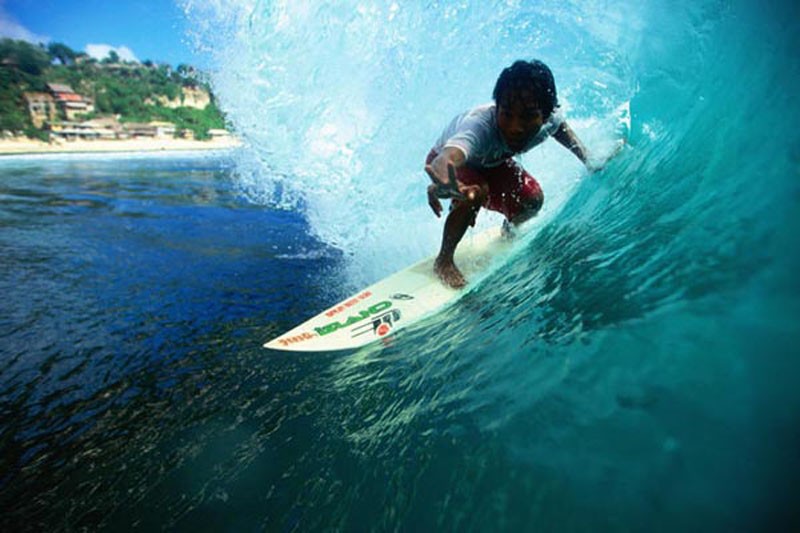 The Bukit peninsula, bukit meaning literally 'hill' in Indonesia, is the southernmost point in Bali and just a short drive from the airport. Bali does have a sea port as well, but it doesn't have the facilities to handle large liners or MSC cruises. It is here that surfers from all over the globe descend upon during the months of May to October to catch the waves produced by huge swells in the Indian Ocean.
It really is a surfer's paradise, with hollow waves breaking across coral reef combined with consistent offshore winds. But it's not just surfers that are attracted to this part of Bali, and many people come to stay in the exclusive hotels that overlook the white sand beaches that are dotted all over the area. The GWK cultural centre is located here, where you can see traditional Balinese dances, theatre, and soak up other cultural exhibitions.
Amed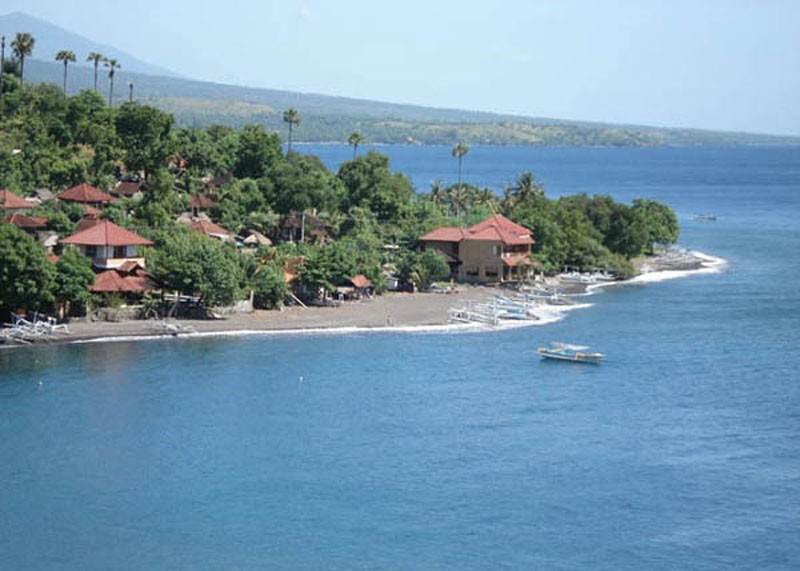 Amed is a small village on the north east coast of Bali and is a great place to book a villa and relax your days away without a care in the world. One of its main attractions is the shipwreck found within swimming distance just off its shores. You can swim out to the shipwreck with a snorkel and flippers to gaze at the huge variety of tropical sea life that lives there. Angel fish, manta rays, turtles, and small reef sharks are just some of the wildlife you might spot.
The Gili Islands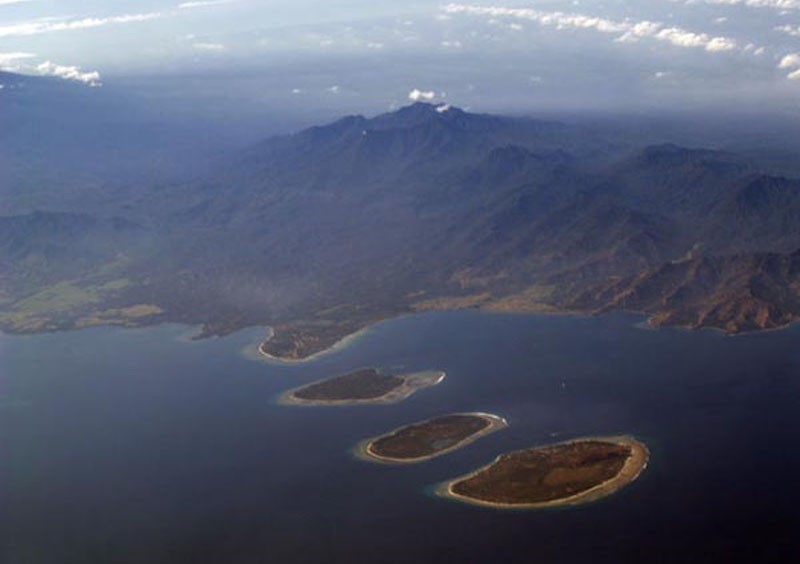 The Gili islands are located of the northern coast of Bali and are very close to Bali's neighbouring island, Lombok. They provide a scuba diving haven along with a traveller's party scene that make them ever popular with the young crowd. The Gili islands are made up of three separate islands, each one with a different vibe. Gili Trawangan, the biggest and liveliest of the three, can be walked around leisurely in just a few hours, and provides the base for most people visiting the area. Nearby Gili Meno and Gili Air are much smaller and isolated, and a perfect getaway for couples wanting an authentic tropical island experience. Boats to the islands run from Pandang Bai and Sanur on mainland Bali, and journey times differ depending on what type of boat you take. Fast boats can take around and hour and a half, whereas the slower traditional boast can take anything up to 5 or 6 hours.
1